West Technical High School
Class of June, 1960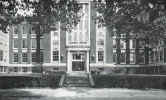 Alma Mater
Dear Old West Tech, we'll always love you...
Sure as the stars do shine above you.
Always loyal and always true...
We love you more every day.
Down through the years we'll all be yearning...
To these dear old halls to be returning.
Dear old West Tech, we're all for you...
For the Crimson and Gray!

Class Motto: "Our Greatest Glory Consists Not in Never Falling, but in Rising Everytime We Fall."
----Emerson


Happy New Year and Happy Winter, 2002!
Our theme for this season is any memories, photos, "whatever"
that you may have from past winters.
Click on thumbnails to view full-size image.
Many archival photos and documents on this site were provided by Lois Gollwitzer Dixon.
I would be happy to add anyone's photos or personal information to our website.
Send them to: sandyf4@yahoo.com
This site is currently being restored--due to "unknown" reasons which caused it to disappear from cyberspace. Thanks for your patience. Sandy
Updated on 01/12/02
All images were made by Sandy