Lois Gollwitzer Dixon--DOB 11/15/42--Married Don Dixon (WTH'59) 9/30/61--Children: Patty (39) Donnie (36) Joanne (31) Janice (29)--Grandchildren: Mike (18) Matt (15) Stephanie (10). Living in Livonia MI for past 28 years. Does bookkeeping for Don's business, Dixon Machine Service. Likes country decorating and going to Air Supply concerts.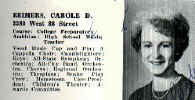 Carole Reimers Dyson


Sandy Franz Fiske--Lives in San Diego, CA. Birthday: June 7th Anniversary: Dec. 24th Married Two daughters: Kim(35--lives in Atlanta, GA), Jana (29) lives in Md. Three grandchildren: Calvin, Liam and Shelby. Attended Fairview Park Hospital School of Nursing. Retired. Interests and hobbies: computer, reading, and traveling. To see what I've been up to for the past 40 years--please visit my personal website--http://members.tripod.com/fiskesan
Joy Clark Freda--Lives in Bedford, Ohio with Isis the cat. Widowed. One daughter, Debbie, who resides in the New Orleans area. Employed part-time as an attorney, but looking forward to retirement and seeing the world. Stan Hywet volunteer. Favorite pastimes: bridge, golf, reading and theater.
Karen Marshall Kempke and Thomas Kempke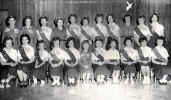 Marge Kennish Krach--West Tech class of 1935. Married Mike Krach--West Tech class of 1934. Daughters Kay and Karen Krach are also West Tech grads. Marge was our Girl Scout leader of Troop #558. (Marge is the one in above photo with white arrow over her head.)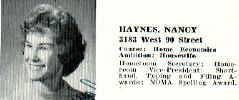 Nancy Haynes Pardue
Barbara Augustine Veres--DOB 12/29/42. Anniversary: 4/29/67. Husband, Andrew. Three daughters, Laurette, age 31, Tina, age 29, Tracy, age 21. 2 grandsons Daniel, age 2, Josuah age 1 year. I am a retired English teacher and now I publish a magazine called Hepatitis magazine. If you would like a free copy, go to the website, www.hepatitismag.com. Or you can email me at bveres@hepatitismag.com. Would love to hear from anyone from West Tech. I love to chat on line. I love to square dance, contra dance, country western, 2 step, swim, travel power walk, go to the theatre, do yoga and aerobics. I'm into health and fitness. I belong to toastmasters and an Edgar Cayce meditation group.